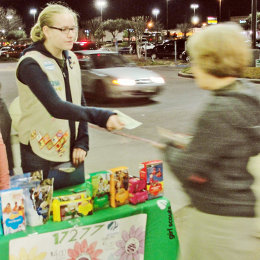 SALES SECRETS FROM A TOP-SELLING GIRL SCOUT
FROM SPREADSHEETS TRACKING SALES-PER-HOUR TO A DEDICATED "COOKIE HOTLINE," HOW ONE GIRL SCOUT'S COOKIE SALES STRATEGY LED TO SWEET SUCCESS.
Twelve-year-old Elena Welsh is a lot like your typical seventh grader: she's on the volleyball team, plays oboe in the middle school band, and enjoys spending time with her friends after school. But she's also a burgeoning businesswoman.
As a top-selling Girl Scout in the San Jacinto Council (Texas), she sold 5,131 boxes of cookies last year. At four dollars a box, she could buy a car, her mother and troop leader Kimberly Welsh, jokes. We spoke with Elena and her mom to learn the secrets behind Elena's cookie sales success.